Do you want to work in an exciting company, which also collaborates with companies that play a central role in society? Are you motivated by helping customers become more independent, by implementing digital solutions? Then we think you should apply! We are always looking for experienced WordPress developers!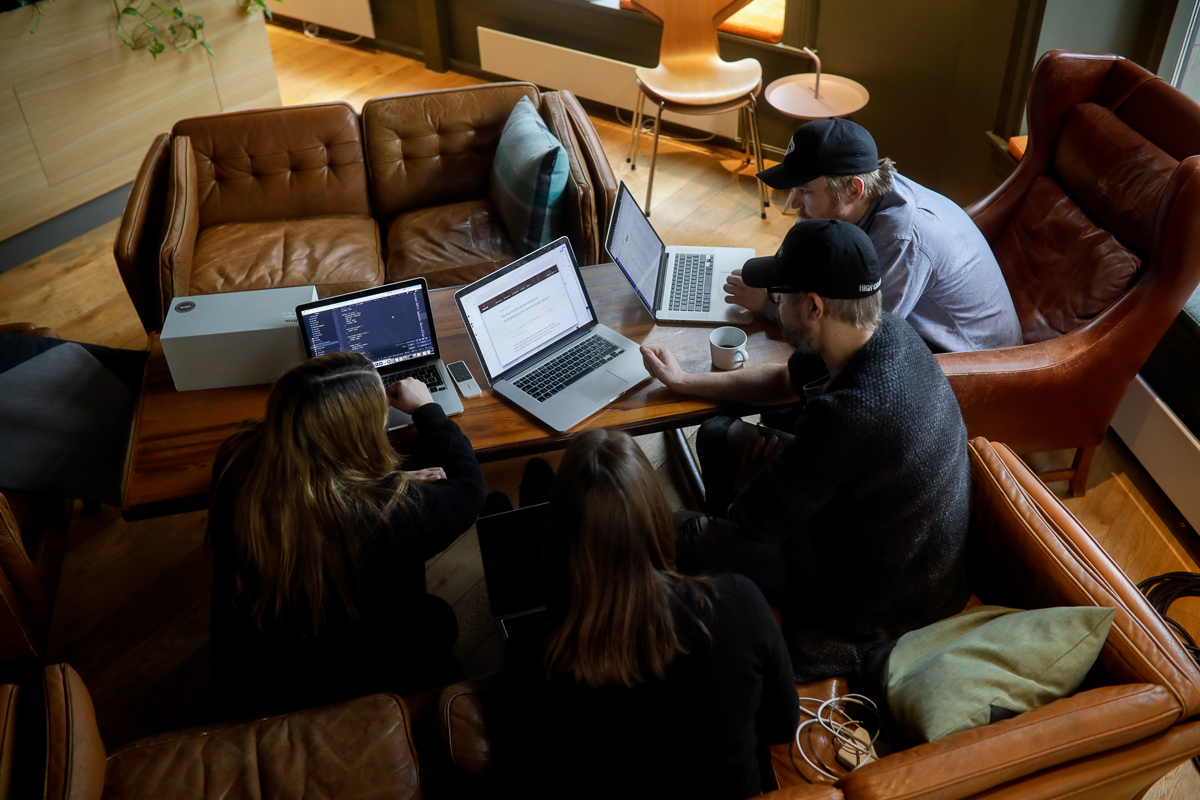 We are hiring WordPress developers from all over Europe!
Dekode has its headquarters in Oslo (Norway), but we also have remote employees in several locations in Norway as well as Romania, Sweden and the UK. As long as you are a WordPress developer, have the opportunity to work from home, and work within more or less the same time zone, you can work from wherever you want.
The best thing about working as a developer in Dekode?
How can we best convince you that Dekode is a good place to work for a developer – from Norway or anywhere i Europe? We simply thought our developers could tell you that themselves. We asked them, individually and without knowing what the others said, what the best thing about working in Dekode is.
---
The best thing about working as a developer for Dekode must be the colleagues. You notice that they are passionate about WordPress and what they do. This creates a good environment, and if you are stuck – there is always others ready to help.

Kevin Danielsen
---
What I like best is that we get the freedom to solve projects in the way we think is best. There is a high level of competence and a good environment.

Petter Walbø Johnsgård
---
Being surrounded by such friendly and competent people creates a great workplace, providing interesting challenges in a relaxed environment – largely thanks to the friendly support you receive from your colleagues at all levels. Dekode provides a healthy and sustainable work environment, which I think is invaluable. These experiences are while working remotely from the UK, which makes it all the more impressive.

Peter Booker
---
I wanted to work in Dekode because it seemed like a real good environment for developers and with colleagues I could learn from. At the same time I would get the possibility to work with exciting challenges. It has definitely lived up to my expectations.

Ann Christin Cappelen
---
In Dekode, I get freedom under responsibility and the opportunity to work with new technology.

Stian Hassel Øveråsen
---
With focus on the latest in WordPress and web development, Dekode gives me the opportunities and the tools I need to grow as a developer. I can also influence the company's technological direction.

Alex Kylén
---
Dekode gives us the tools and the freedom we need to create good software.

Jan Benny Thomas
---
At Dekode, I love the fact that all the colleagues I work with have advanced skills, and that together we can handle any complex project.

Iulia Cazan
---
Dekode is all about people. Here I have found a supportive environment where you are helped and encouraged to grow both professionally and personally.

Bogdan Dragomir
---
I think the best thing about working as a developer here is the environment and how well accepted I was when I started as an intern.

Jørgen Stenshaug
---
I love that Dekode, through it's years of experience, has learned to focus on the human nature of the job and not only on the job itself. This brings us closer together. Even though we are thousands of kilometers apart, it feels like we are in the same room, sharing the same experience.

Alexandru Negotia
---
There's a lot of good things about working as a developer in Dekode. Perhaps the best thing is that I get challenged almost every day by working with exciting, complex tasks and technical solutions that will be scalable and viable for many years to come.

Peder Andreas Nielsen
---
There's two things in particular: The high level of competence spread among us all, and exciting projects at a higher level than what many often work with in the WordPress world.

Marius Jensen
---
The best thing about Dekode is that you're never forced to do something that you are not comfortable with. Here you get the opportunity to grow and to challenge yourself, at your own pace.

Anna Li
---
The best thing about working for Dekode as a developer is that you can improve yourself technically, at the same time as you work with rewarding projects.

Martin Owren
---
Dekode gives me the opportunity to develop complex, scalable and technical solutions in close collaboration with several of the largest brands in Norway.

Ole Thomas Tallerås
---
Have we convinced you?
Take a look at all our job openings here and send us your application as soon possible.
We look forward to hearing from you!